Description
Prodigy AutoCode – Bulk Discount Package
Prodigy AutoCode – Bulk Discount Package A great deal for bulk buyers – Get Ten Boxes of 50 Prodigy AutoCode Diabetic Test Strips (500 Strips)PLUS Five Prodigy Pocket (Mini) Blood Glucose Meters! Prodigy® No Coding Test Strips work with the Prodigy AutoCode®, Pocket, and Voice meters. The 3 lead technology allows the meters to test only when there is enough blood on the test strip, saving the user test strips and money. The capillary action automatically draws the blood sample into the test strip.
Prodigy® No Coding test strips do not use GDH-PQQ technology and are approved for alternate site testing. Our glucose oxidase technology allow for safer and more accurate results.
Compatible: Prodigy Autocode Blood Glucose test strips are compatible with
Features *No Coding required* Works with all Prodigy meters* Approved for Alternate Site Testing (AST) * Capillary action makes testing easy!One Strip, Three Meters
Package Contents: You will receive
10 boxes of Prodigy Autocode Blood Glucose test strips 50ct = 500ct 5 Prodigy Pocket Meter
Product Details
Talking: Yes
Expiration: 6+ months from Purchase Date
Dimensions:2″ x 2″ x 3″
Brand: Prodigy
UPC: 384840528000
Manufacturer Contact Information
Warranty:
Phone Number: 1-800-243-2636
Email: customercare@prodigymeter.com
Prodigy AutoCode – Bulk Discount Package
Brands:
Prodigy
Prodigy Diabetes Care, LLC is an innovative company committed to providing high-quality diabetes products such as the Prodigy VOICE Glucose Meter, and Prodigy Mini-Mist Portable Nebulizer, with great features at an affordable cost, to help people manage their diabetes. These are some of their more popular products that we offer, with the Mini-Mist Nebulizer being able to easily and effectively deliver medication into your airways, and the VOICE Meter being able to deliver fast and accurate voice test results for those with vision problems.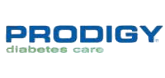 Additional information