Description
Extend Bars Yogurt and Lemon
Yogurt & Lemon Anytime Bars are Refreshing! Delicious! Decadent…with a soft chewy, high protein nougat topped by a layer of delicious sweet and tart lemon filling all dipped in a silky, sugar free yogurt coating.
ExtendBar was designed to do one thing particularly well – help stabilize blood sugar levels for up to 9 hours! its patented formula converts gradually to blood sugar over 7-9 hours – instead of all at once like so many other snacks – to help even out blood sugar swings.
ExtendBar is clinically proven to help you: * Control hunger by suppressing appetite * Avoid low blood sugar, even overnight * Reduce blood sugar swings * Sustain energy during exercise and recovery ExtendBars were developed by world-renowned endocrinologist Francine Kaufman, M.D., past president of the American Diabetes Association and author of the groundbreaking book Diabesity. An ideal snack between meals and before exercise or bed. * Sugar-Free * Gluten-free * High in protein and fiber * Low-fat * 0 g trans fat * Low glycemic index & load Package Contains: you will receive Extend Bars Yogurt and Lemon
Vitamin Mineral Blend:
Alpha- tocopherol Acetate
Biotin
Niacinamide
Vitamin A Palmitate
Calcium Pantothenate
Vitamin K
Vitamin B-12
Folic Acid
Vitamin D-3
Pyridoxine HCI
Riboflavin
Thiamin
Dicalcium Phosphate
Magnesium Oxide
Ferric Orthophosphate
Zinc Citrate
Manganese Gluconate
Copper Gluconate
Potassium Iodide
Sodium Selenite
Chromium Chloride Hexahydrate
Sodium Molybdate Dihydrate
Package Contains: you will receive 1 Box of 15 Extend Bars Yogurt and Lemon
Brands:
Extend Nutrition
CLINICALLY PROVEN BLOOD SUGAR CONTROL FOR UP TO 9 HOURS. MODERN NUTRITION SCIENCE IS CLEAR. BLOOD SUGAR CONTROL IS FUNDAMENTAL TO YOUR HEALTH, YOUR APPETITE CONTROL AND YOUR ENERGY.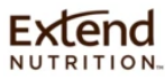 Additional information
| | |
| --- | --- |
| Weight | 1.531 lbs |
| Dimensions | 9.4 × 5.9 × 2.2 in |