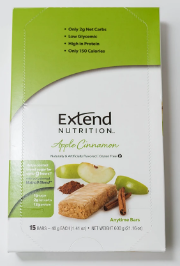 Extend Bar Apple Cinnamon Delight Box of 15
Out of stock
Description
Extend Bar Apple Cinnamon Delight Box ExtendBar Apple Cinnamon Delight
Moist and chewy, with real apple pieces and a delightful cinnamon aroma, this low carb, high protein and fiber bar fits into the Transitions Program.
It's even gluten-free! Helps Control Blood Sugar For Up to 9 Hours *Control Hunger *Avoid Blood Sugar Lows and Highs *Count on Energy that Lasts *Naturally and Artificially Flavored *Kosher What makes ExtendBar such a great snack? ExtendBar was designed to do one thing particularly well – help stabilize blood sugar levels for up to 9 hours! its patented formula converts gradually to blood sugar over 7-9 hours – instead of all at once like so many other snacks – to help even out blood sugar swings. ExtendBar is clinically proven to help you: * Control hunger by suppressing appetite * Avoid low blood sugar, even overnight * Reduce blood sugar swings * Sustain energy during exercise and recovery An ideal snack between meals and before exercise or bed. * Sugar-Free * Gluten-free * High in protein and fiber * Low-fat * 0 g trans fat * Low glycemic index & load
Package Contains: you will receive 1 Box of 15 Extend Bars Apple Cinnamon Delight
Ingredients:
Soy Protein Isolate
Maltitol Syrup
Uncooked Cornstarch
Arabinogalactan(fiber)
Vegetable Glycerin
Inulin (fiber)
Milk Protein Isolate
Resistant Maltodextrin (fiber)
Evaporated apples
Cocoa Butter
Rice Starch
Sunflower Oil with Tocopherol
Natural and Artificial Flavors
Salt
Sucralose
Soy Lecithin
Citric Acid
Malic Acid
Cinnamon
Caramel Color
Brands:
Extend Nutrition
CLINICALLY PROVEN BLOOD SUGAR CONTROL FOR UP TO 9 HOURS. MODERN NUTRITION SCIENCE IS CLEAR. BLOOD SUGAR CONTROL IS FUNDAMENTAL TO YOUR HEALTH, YOUR APPETITE CONTROL AND YOUR ENERGY.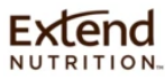 Additional information
| | |
| --- | --- |
| Weight | 1.475 lbs |
| Dimensions | 9.4 × 5.9 × 2.2 in |