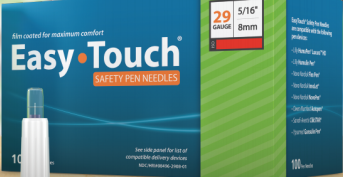 Easy Touch Safety Pen Needles 29g 5/16″(8mm)100 Ct
In stock
Description
Easy Touch Safety Pen Needles 29g 5/16″(8mm) -100 count
Easy Touch Safety Pen Needles feature a protective shield that automatically locks into place after injection to help reduce the occurrence of neddlestick injuries.
Please Note: The higher the gauge, the thinner the needle. For example, a 31 gauge needle is thinner than a 28 gauge needle.
Compatible: Easy Touch Safety Pen Needles are compatible with the following pen devices:
• Lilly HumaPen Luxura HD
• Lilly Humulin Pen
• Novo Nordisk Pen
• Novo Nordisk InnoLet
• Novo Nordisk NovoPen
• Owen Mumford Autopen
• Sanofi-Aventis ClikSTAR
• Ypsomed Gansulin Pen
Features:
Automatic Protective Shield
Easy to Use
Neddle Design for Maximum Patient Comfort
Tri-Bevel Cut Tip
Electopolished to Remove Burrs
Film-Coated for a Smoother injection
Package Contents: You will receive 1 box of 100ct Easy Touch Safety Pen Needles 29g 5/16″ 8mm
Product Details:
• Expiration Date: 6+ months from the date of purchase
• Length: 8 mm
• Gauge: 29G
• Brand: Easy Touch
• UPC: 853747003687
• NDC: 08496290801
Manufacturer Contact Information
• Manufacturer: MHC Medical
• Phone Number: 1-877-358-4342
• Email: info@EasyTouchProducts.com
Please consult with your Health Care Professional before using this product or making changes; as we cannot give any advice to the effectiveness of products.
Brands:
MCH
Since 2004 MHC Medical Products has been manufacturing high quality medical products for the retail pharmacy and the consumer market. They enjoyed great success with their first two lines of products, ColorSafe Vials and EasyTouch Syringes. This success continued when they expanded their insulin syringe line in early 2006 to include Safety Syringes and Pen Needles. EasyTouch insulin syringes and other MHC products are designed and manufactured to the highest levels of quality, but at a much more affordable cost to the wholesale market than comparable premium brands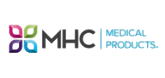 Additional information
| | |
| --- | --- |
| Weight | 0.306 lbs |
| Dimensions | 5 × 2.75 × 2.75 in |