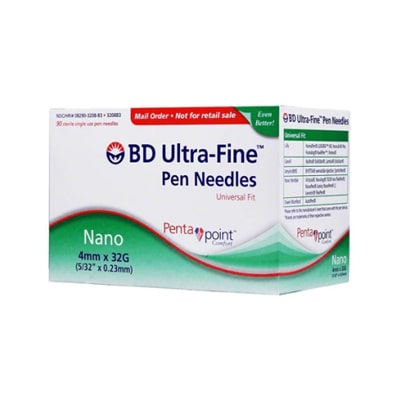 Bd Ultra-Fine Nano Pen Needle 32 G X 4 mm – Box of 90
Description
Bd Ultra-Fine Nano Pen Needle 32 G X 4 mm – Box of 90
BD Ultra-Fine Nano Pen Needle Thinner, shorter and much more comfortable. The comfort of the injection is guaranteed and designed for universal fit. Allows for injection straight in No pinch up of the skin needed, No need for longer needles – the Nano has been clinically proven to be just as effective in people of all sizes Needle is so fine as to be barely perceptible.
Please Note: The higher the gauge, the thinner the needle. For example, a 31 gauge needle is thinner than a 28 gauge needle.
Compatible: Bd Ultra-Fine Nano Pen Needle are compatible with
• type A insulin pen delivery devices
• Apidra
• SoloStar
• Lantus
• SoloStar Byetta
• SymlinPen 60 & 120
• HumaPen
• LUXURA Humalog
• KwikPen
• Humulin Pen
• Victoza
• NovoLog Mix
• FlexPen
• NovoPen
• Junior NovoPen
• Levemir FlexPen
• AutoPen
• And many more
Features:
• universal fit
• Thinner
• Shorter
• PentaPoint 5-bevel needle tip
• Smoother and gentler injection
Package Contents: You will receive
• 1 box of 90 Bd Ultra-Fine Nano Pen Needle 32 G X 4 mm
Product Details:
• Expiration: 6+ months from Purchase Date
• Length: 4mm
• Gauge: 32G
• Brand: BD
• UPC: 382903208838
• NDC: 08290-3208-83
• MPN: 6431573363
Manufacturer Contact Information:
• Manufacturer: BD
• Phone Number: 1-888-232-2737
Please consult with your Health Care Professional before using this product or making changes; as we cannot give any advice to the effectiveness of products.
Brands:
BD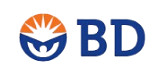 Additional information
| | |
| --- | --- |
| Weight | 0.306 lbs |
| Dimensions | 5 × 2.75 × 3.3 in |