Description
Accu-Chek Guide Meter and Case Only
Diabetes is complex. Your testing doesn't have to be with the Accu-Chek Guide meter. With a spill-resistant SmartPack® vial, a strip that lets you place a small drop of blood anywhere along the end, and the free mySugr app that automatically logs results to your phone, it's a surprisingly simple way to manage your diabetes.
Compatible: Accu-Chek Guide Meter Kit is compatible with Accu-Chek Guide Blood Glucose test strips
Benefits and features
Simple to take just one strip—spill-resistant SmartPack vial lets you take one and spill none
Simple to use the entire end—place a small drop of blood anywhere along the end of the test strip, instead of on a tiny spot
Simple to see, day or night—strip port light for testing in daytime, nighttime or anytime
Simple to log results without a paper logbook—automatically logs results right to an app on your smartphone
Simple to dispose of used test strips—push-button strip ejector means you don't have to touch used strips
Simple to be more accurate—delivers advanced 10/10 accuracy for reliable results you can trust1
Wireless Technology- Bluetooth
Package Contains: you will receive  Accu-Chek Guide Blood Glucose Meter (batteries included with preset time and date); Carrying case; Warranty and rebate card;
*Accu-Chek Guide test strips and control solutions are required and sold separately.*
Product Details
Talking: No
Manufacturer Warranty: Lifetime Warranty
Brands:
Accu Check
As a research-focused healthcare company, Roche discovers, develops and provides innovative diagnostic and therapeutic products and services that deliver significant benefits to patients and healthcare professionals – from early detection and prevention of diseases to diagnosis, treatment and treatment monitoring. Roche is responsible for the successful line of Accu-Chek diabetes supplies. TotalDiabetesSupply.com carries a large selection of Accu-Chek supplies at discount prices. Browse through our selection of Accu-Chek Advantage, Aviva, Active, Compact, Multi-clix, and Soft clix glucose monitoring products. Accu-Chek is the leading provider of diabetic test strips, glucose monitors, and lancing devices.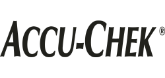 Roche
Roche Diagnostics develops innovative products and services that address the prevention, diagnosis, monitoring, screening and treatment of diseases.