Description
Abbott FreeStyle Daily Log Book
Abbott FreeStyle Daily Log Book Diabetic log books and self-testing journals are an important part of a diabetics life. Log books help you manage your diabetes more effectively. It lets you track the information you want to make neccesary adjustments in diet and activity in order to meet your goals! The FreeStyle log book includes sections for Lunch, Dinner ,Bedtime , Night and comments you may want to add for your own convenience. It also Records up to 16 weeks of daily activity.
Package Contents: You will receive
1 FreeStyle Log Book (16 weeks of daily activity)
Product Details
Dimensions: 3″L x 4″W
Brand: Abbott Freestyle
UPC: 699073708113
Item Model Number: abfslog
Manufacturer Contact Information
Warranty:
Phone Number: 1-888-522-5226
Email: https://www.abbott.com/contactus.html
Brands:
Freestyle
Abbott Diabetes Care is developing products to reduce the discomfort and inconvenience of blood glucose monitoring; introducing systems that are easier to use, require less blood and provide faster results. Among its leading FreeStyle diabetic supplies are the FreeStyle Navigator® system, FreeStyle Lite® system, the FreeStyle Freedom Lite® system and the Precision Xtra® system. Check out our selection of Abbott Diabetes Care products below.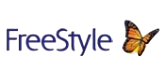 Additional information
| | |
| --- | --- |
| Weight | 0.037 lbs |
| Dimensions | 5 × 4 × 0.1 in |