Genesis Today Garcinia Cambogia Capsule:
May 25, 2018
2018-05-30 15:15
Genesis Today Garcinia Cambogia Capsule: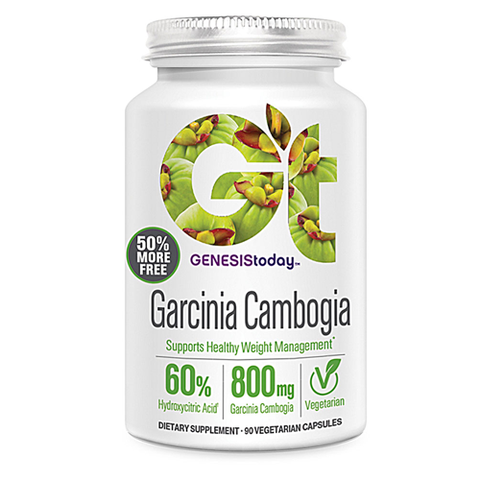 Genesis Today Garcinia Cambogia Capsule:
Genesis Today Garcinia Cambogia Capsule:
About:
Garcinia Cambogia has been popularized worldwide for its efficient and effective, wellness and fitness qualities. This small, pumpkin-like, fruit has been known for its all-natural and active ingredients including: calcium, chromium, and potassium, which support healthy bones, blood, and muscles, respectively. The fruit's most common and renounced ingredient is found in its rind…  hydroxycitric acid (HCA), which is known to mimic the burning of fat and cut down one's appetite, leading to increased weight loss and energy.
Suggested Use:
These supplements should be taken in pairs of two (2) capsules three (3) times per day on an empty stomach (30 minutes before meals with a full glass of water) or as recommended by your doctor.
Garcinia Cambogia's HCA may also help someone living with diabetes:
The supplement's promise of healthy weight loss would lead to reduced blood pressure and blood glucose levels.
Garcinia Cambogia has been seen to reduce the rate of glucose reabsorption after eating, which can potentially lower peak blood sugar levels both when fasting and/or after a meal.
It has been observed that HCA has reduced fasting insulin and blood sugar levels.
Inflammation of the body contributes to insulin resistance. So far, these supplements have shown positive effects, such as less body inflammation, but more testing is needed.
There are studies being conducted right now that are discovering further potential health benefits between Garcinia Cambogia supplements and diabetes.
Reported Side Effects:
Headache
Dizziness
Dry mouth
Nausea and diarrhea
Be sure to check with your healthcare provider before taking any capsules to make sure they're safe for use and individualized for you.
Sources:
https://www.livestrong.com/article/457338-garcinia-cambogia-and-diabetes/
https://www.beyondtalk.net/garcinia-cambogia-safe-diabetics/