Description
Less than 3 Month Expiration
Prodigy AutoCode Test Strips Bundle Deal 200Ct
Prodigy® Autocode The Only English & Spanish speaking, No-Coding, blood glucose monitoring system available. Features The Prodigy® Autocode Meter requires NO-Coding, which means fewer steps and avoids the danger of false results caused by coding errors. Simply insert the test strip into the strip port, located at the top of the meter, and the Prodigy® Autocode automatically turns on and will talk" the user through the testing steps; making it easy to use, while providing safe, accurate test results every time.
The Prodigy® Autocode is audible; an essential feature for people with low vision or those who just want to hear their test result. The "talking" feature will let the user know the room temperature and then direct the user to apply a drop of blood onto the test strip. Once the absorbent channel on the test strip is full, the user will hear their test results in only 6 seconds, with time and date in either English or Spanish. *The Prodigy® Autocode is also available as a non-talking meter, providing the same safe no-coding feature, without the audible (talking) function. Memory and Data Management The Prodigy® Autocode can store up to 450 tests results with date and time and gives 7, 14, 21, 28, 60, and 90 day averages.
Prodigy®'s FREE software allows simple downloading of test results to your computer helping you and your Diabetes healthcare professional track changes in your blood glucose level over time. Alternate Site Testing The Prodigy® Autocode offers you the option to test with blood from your palms, forearms, upper-arms, thighs and calves, which have fewer nerve endings than your fingerstips. Smaller Blood Sample Required The Prodigy® Autocode requires only a 0.6 microliter drop of blood -smaller than most meters available today. This allows you to use extra-fine gauge lancets and significantly reduce your pain and discomfort. With no-coding and audible features, this makes the Prodigy® Autocode, the easiest and safest blood glucose monitoring system to use.
Another great advantage of the Autocode is that it promotes "team work"… the ability to "hear" your child's or your spouse's test result from across the room without having to ask. Also, with its compact size, the user can slip the Autocode meter into their pocket or purse easily and take the meter with them anywhere.
Brands:
Prodigy
Prodigy Diabetes Care, LLC is an innovative company committed to providing high-quality diabetes products such as the Prodigy VOICE Glucose Meter, and Prodigy Mini-Mist Portable Nebulizer, with great features at an affordable cost, to help people manage their diabetes. These are some of their more popular products that we offer, with the Mini-Mist Nebulizer being able to easily and effectively deliver medication into your airways, and the VOICE Meter being able to deliver fast and accurate voice test results for those with vision problems.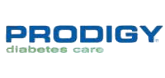 Additional information