National Nutrition Month – 4 Week Challenge Week 2 -Extra Please
February 28, 2017
2017-05-30 15:05
National Nutrition Month – 4 Week Challenge Week 2 -Extra Please
National Nutrition Month – 4 Week Challenge Week 2 -Extra Please
Join the 4 Week DS
4

L Nutrition Challenge with us!

Ideal challenge for a diabetic!
National Nutrition Month was started to encourage everyone to focus on making more informed food choices and developing better & consistent physical activity and eating habits.
Week 2 March 8th – March 14th
Last week, we cut out some of the food that is harmful to us.
We're continuing the cut of junk food, salt, and sugary sodas throughout the rest of the challenge.

If you didn't read that article, you should! It's not too late to join the challenge!
For the next week, we're having extras of the "good stuff."
4 Servings of Fruits 
5 Servings of Veggies 
8 Cups of Water
FRUIT
Did you know that fiber has been proven to improve your blood sugar control & decrease your need for some medications including insulin? That's right! So hopefully you have already been consuming at least the minimum recommended serving amount from your doctor or the American Diabetes Association.
Some fruits rich in fiber:
Apples
Apricots
Bananas
Raspberries
Passion Fruit
Oranges
Mangoes
Kiwi
Blackberries
Peaches
For tips on how to choose the right food based off of calories, carbs, portions, etc., read this article by LiveStrong.
This week:
We vow to have the maximum recommended serving; that's 4 servings of fruit each day!
However,
we're avoiding the fruit in a can!
Sorry folks, fresh, frozen & dried fruit only! I know there's nothing easier than grabbing a can of fruit while grocery shopping. But this week, we're going to put in a little extra effort and choose the fresh fruit. This is to eliminate some of the unnecessary added sugars that come with the fruit juices and canned fruit.
Instead try:
to exchange some of your starches for fruit as a healthier source of carbohydrates.
What is 1 serving equivalent to?
Typically, 1 small whole fruit, 1/3 of a large whole fruit, or 3/4-1 cup of diced fruit is equivalent to one serving size. It really will depend on the type of fruit for the serving size, but you want to make sure you have 4 servings!
Here are some quick guidelines on daily nutrition. Great examples of carb serving sizes from HealthAmbition.com.
If all else fails, use a meal portioning aid to take out the math & guessing game and ensure adequate portions like the:
Meal Measure
– OR –
Portionmate
–   –   –   –  –   –   –   –  –   –   –   –
VEGETABLES
Did you know that vegetables that are high in starch are also higher in calories? Starchy and non-starchy are the 2 main categories of vegetables.
Examples of each:
Starchy vegetables – potatoes, corn, peas, pumpkin, sweet potatoes, squash
Non-starchy vegetables – cucumber, tomatoes, onions, mushrooms, peppers, broccoli
This week:
We vow to have the maximum recommended serving; that's 5 servings of vegetables each day!
Serving size of:
Starchy vegetables = 1/2 cup
Non-starchy vegetables = ½ cup cooked/vegetable juice  or  1 cup raw
Fresh vegetables are of course preferred, however frozen and canned vegetables are OK with us!
If you're consuming canned vegetables, choose the cans labeled "reduced sodium" or "no-salt-added."
Instead try:
to rinse the canned vegetables with water before cooking (to reduce some of the added sodium).
–   –   –   –  –   –   –   –  –   –   –   –
WATER
Did you know that drinking water can lower blood glucose levels? Yes, indirectly! Not only does it help make you fuller faster without any extra calories & helps prevent dehydration, but it also dilutes the glucose in your blood! This means that the higher your glucose levels are, the more water you should drink!
This week:
We vow to have the maximum recommended serving; that's 8 cups of water each day!
Add one of these fruity flavors to your water for taste. They have zero carbs, zero sodium, zero sugar, and zero calories PLUS 10 vitamins & minerals!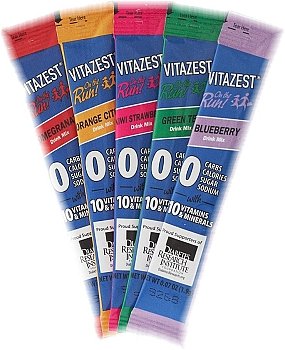 Extra tips to help you get through this week's challenge:
Try a new fruit & veggie this week!
Pre-cut your fruit and vegetables for quick & easy, grab-n-go snacks.
Add vegetables & fruit to uncommon dishes (such as sandwiches and oatmeal).
Last week's challenge is being continued!
To Come:
Week 3 > Getting Active
Week 4 > Get Informed!