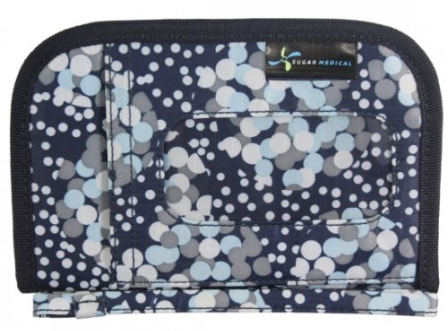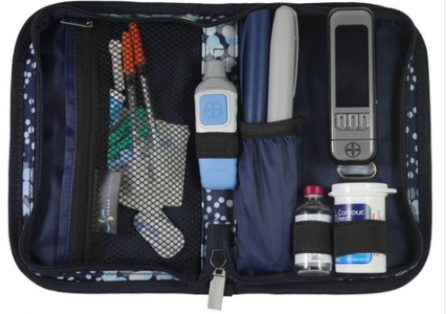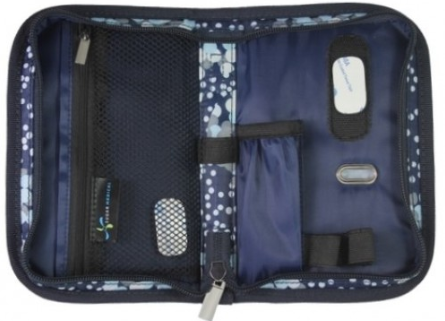 Description
Universal Deluxe Supply Case- Riley
Get all your diabetic supplies organized with this functional designed bag.  Key features include:
-Secure any glucose meter into bag using 3M velcro
-Trash pocket for used test strips. Just slip them in slot!
-Nylon pocket for 2 insulin pens, or can hold a larger lancing device or snack
Riley is a deep navy blue with pops of light blue and grey in a fun multi dot pattern.  Includes a removable matching wrist strap. The strong 3M velcro hook and loop system secures any glucose meter into the bag. Stick the patch to the back of your meter and it easily secures into the bag. Bag comes with two 3M velcro patches which gives you an extra patch for another meter.
Our trash pocket is awesome….slip your used test strips through a the metal eyelet inside the bag and the test strips go into a lined "trash pocket" on the back of the bag. It works like a mail slot. No more test strips falling on the floor! Your friends and family will love this feature! Trash pocket is lined with vinyl so you can easily wipe it clean too.
The inside has a nylon pocket to fit two insulin pens, a loop for your lancet, and loops for test strips and an insulin vial. Interior mesh zippered pouch allows storage of small items like insulin, lancets, syringes, and oral medications with visible ease. There is one more pocket behind the behind the mesh pocket which can hold log books, alcohol swabs, emergency information, or personal items such as credit cards and driver's license.  The functional front exterior pocket holds ID cards, photos, cell phone, or the Dexcom receiver.
Constructed out of durable polyester, this bag easily wipes clean with a wet cloth.The padded supply bag measures 7 in long X 4 1/4 in wide X 1 1/4 in deep.
-Fits all glucose meters on the market by securing meter into bag using 3M velcro
-Nylon interior pocket fits 2 insulin pens, lancet, a snack or glucose tabs
-Mesh interior pocket holds syringes, alcohol swabs, medications, and more
-Elastic loops hold test strips, insulin vial, and finger lancing device
-Front pocket can hold medical ID card, drivers license, Dexcom receiver, or cell phone
Package Contents: You will receive
1 Universal Plus Supply Case
Product Details:
Dimensions: 7 in long X 4 1/4 in wide X 1 1/4 in deep.
Style: Riley
Brand: Sugar Medical
Manufacturer Contact Information:
Email: customerservice@sugarmedical.com
Additional information