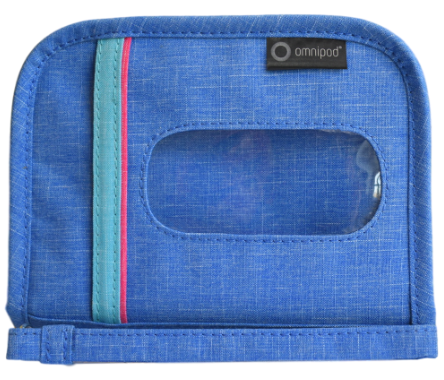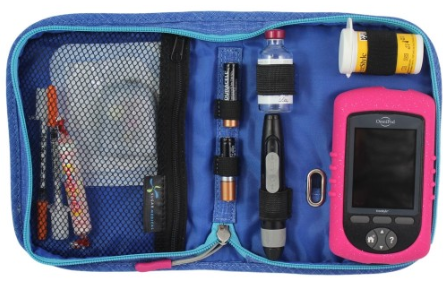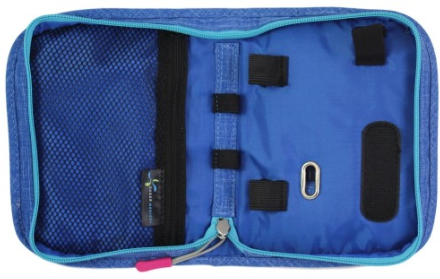 Description
Omnipod Supply Case- Skylar
Sky is the limit! This bright case fits new generation PDM and prior model PDM's. This will also work with larger glucose meters. Velcro secures your PDM in place. Use one of the two patches provided with the bag and stick one onto the back of the PDM. This bag also features a matching removable wrist strap and our popular "trash pocket" and a mathing blue lining.
Bag has loops for test strips, lancing device, insulin vials, and batteries.  This bag has a large zippered pocket on the interior that can be used for an extra "pod", log book, ID cards, or snacks.  Another slip pocket is located behind the mesh zippered pocket which is great for ID cards, log book, or alcohol swabs.The exterior front pocket features a clear window designed to fit the Dexcom receiver, cell phone, log book, or photos and closes with Velcro.
Another great feature is the trash pocket. Just.slip your used test strips through a special slot and it goes into a cool new back trash pocket.  No more test strips falling on the floor! (won't your family be happy!)
Constructed out of durable, easy to clean polyester, this padded bag is built to last.  Measures 7 inches long by 5 inches wide when zipped closed.
Features:
– Beautiful sky blue cross hatch with stripes in pop colors
– PDM or larger glucose meter attach with VELCRO(no pocket on this case)
– mesh pocket holds extra Pod and other supplies
– elastic loops for lancing device, test strips, insulin vial, and batteries
– front pocket fits ID card, photo, cell phone or Dexcom receiver
– includes trash pocket for used test strips and a detachable wrist strap
Package Contents: You will receive
Product Details:
Dimensions: Measures 7 inches long by 5 inches wide
Style: Greyton
Brand: Sugar Medical
Manufacturer Contact Information:
Email: customerservice@sugarmedical.com
Additional information