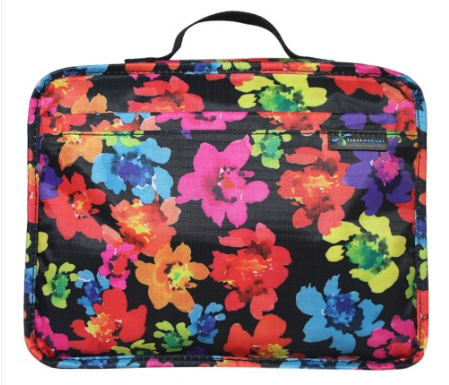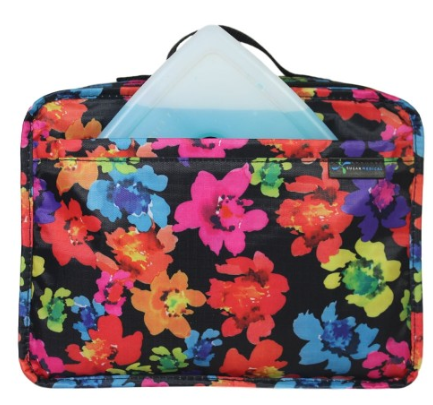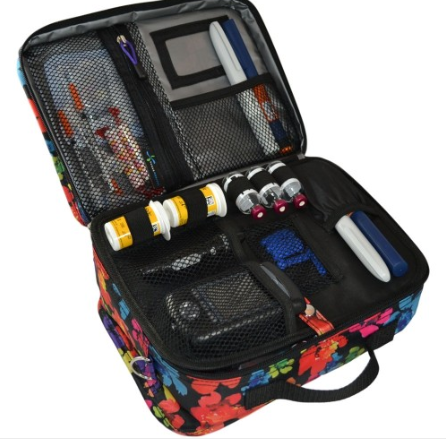 Description
Insulated Travel Bag-Poppy
Our insulated diabetes travel bag is perfect to organize all your supplies for travel, school, or work. Includes a FREE "On-the-Go" cordinating removable supply bag and an adjustable shoulder strap.
Unzip the bag to find 2 sections.  The first section has mesh pockets for your glucose meter, lancing device, insulin pen tips, and syringes. This section also has 3 elastic loops for insulin vials, 2 elastic loops for test strips, an ID card holder, and a nylon pocket for 2 insulin pens.  Unsnap the 1st section, to reveal the deep 2nd section of the bag used to store larger items like a glucagon kit, infusion sets, extra pods, snacks, glucose tablets, and more!  Also included is the FREE "On-the-Go" supply bag.  This removable bag measures 7 in long x 4 in tall  x 1.5 in deep. It can hold your glucose meter, insulin pens, test strips and personal items in a smaller coordinating bag. It zips closed and features a belt loop.
Want to keep your insulin cool? The exterior of this bag features 2 large insulated zippered pockets (5.75 in x 10 in) great for ice packs or extra supplies. Or, use a FRIO Mini cooling pouch (sold on our site) inside the bag. Just slip the cooling pouch in the mesh pocket directly across from the insulin, and when you zip the bag closed, it lays directly on top of the insulin vials and insulin pens keeping them cool. Cool, right?
Constructed out of durable, easy to clean polyester, this padded bag is built to last.  It measures 10 in long x 8 in tall x 5 in deep.
Features:
– Insulated travel case is 8 in wide x 10 in long x 5 in deep
– Multiple mesh pockets and elastic loops designed for insulin vials, test strips, and glucose meter
– Two exterior pockets for ice packs or storage
– Includes a FREE "On-the-Go" removable coordinating supply bag
– Adjustable strap to allow you to wear on shoulder or cross body
– Perfect to organize all diabetic supplies for travel, school, and work
Package Contents: You will receive
Product Details:
Dimensions: Measures 8 in wide x 10 in long x 5 in deep
Style: Poppy
Brand: Sugar Medical
Manufacturer Contact Information:
Email: customerservice@sugarmedical.com
Additional information