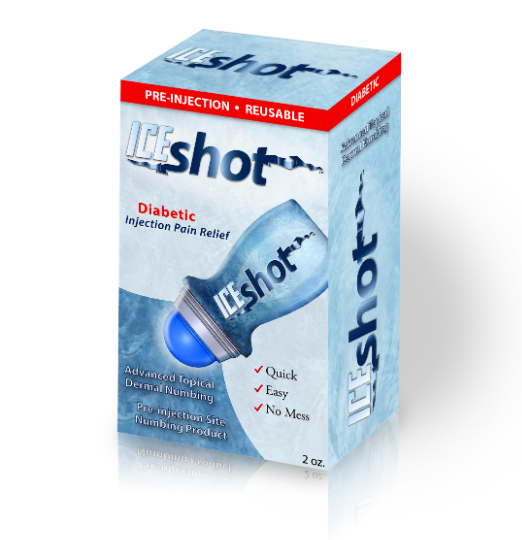 IceShot Pre-Injection Numbing Product*
Out of stock
Description
IceShot Pre-Injection Numbing Product
ICESHOT pre injection skin numbing & pain relief device for diabetic, insulin, fertility, vitamin, immunizations, vaccinations, botox, cosmetic, and other injections. Great for bumps, bruises, aches, pains, insect bites, piercings and to reduce swelling. Non-toxic, portable, reusable, multi purpose, great for kids.
Active Ingredients:
Cellusize (5%)…Dermal Freezing Unit
Features
• Drug free method used to numb your skin and relieve pain prior to taking any type of injection.
• Great for DIABETICS who take insulin injections and finger pricks for blood testing.
• Highly effective for insulin, fertility, vitamin, botox, cosmetic, immunization, vaccinations and other types of injections
• Great for targeted pain relief of joint, tendon, arthritis and other types of pain. Reduce inflammation.
• PERFECT FOR KIDS to sooth bumps, bruises, insect/mosquito bites, splinter extraction, as well as for back-to-school vaccinations.
DIRECTIONS:
1. Place Iceshot into freezer cap side down before first usage and let freeze for 24 hours.
2. Remove Iceshot unit from freezer and remove cap.
3. Hold Iceshot to skin for 20 seconds or until numb
4. Proceed with normal injection method in the Iceshot numbed area
5. Recap and place Iceshot unit back in freezer with cap side down.
***ALWAYS MAKE SURE TO FREEZE ICESHOT VERTICAL CAP SIDE DOWN (freezing in any other position will reduce effectiveness of product)
Package Contents:
1 IceShot Pre-Injection Numbing Product 2oz
Product Details
Expiration: 6+ months from Purchase Date
Dimensions: 2oz
Brand: KJ Krug
UPC: 866326000205
Manufacturer Contact Information
Phone Number: 1-866-373-2824
Additional information
| | |
| --- | --- |
| Weight | 0.14375 lbs |
| Dimensions | 5 × 4 × 3 in |