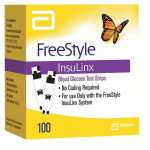 Description
Freestyle Insulinx Test Strips 50 Count
Abbott FreeStyle InsuLinx blood glucose test strips Easy to Use Patented ZipWik tabs target the blood sample for easy application and fast uptake ,No coding required means one less step ,Proven Accuracy,Minimizes Wasted Test Strips, Up to 60 seconds to reapply blood, Small sample size, only 0.3uL.
Compatible: FreeStyle InsuLinx Blood Glucose test strips are compatible with:
Package Contains: you will receive
1 box of FreeStyle InsuLinx Blood Glucose test strips 50ct
Expiration: 9 to 12 months from the date of Purchase
Brands:
Freestyle
Abbott Diabetes Care is developing products to reduce the discomfort and inconvenience of blood glucose monitoring; introducing systems that are easier to use, require less blood and provide faster results. Among its leading FreeStyle diabetic supplies are the FreeStyle Navigator® system, FreeStyle Lite® system, the FreeStyle Freedom Lite® system and the Precision Xtra® system. Check out our selection of Abbott Diabetes Care products below.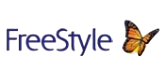 Additional information