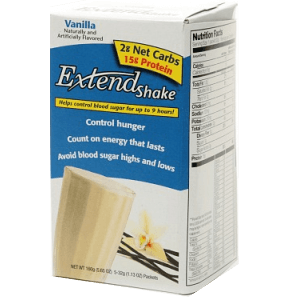 Description
Extend Nutrition Vanilla Shake
Extend Nutrition Vanilla Shake 5 packets Rich Chocolate Shakes are versatile treats that mix quickly into a creamy, delicious vanilla shake. With 15g of protein, only 1g of sugar and only 2g of net carbs. Helps control blood sugar for up to 9 hours! * Control Hunger * Avoid blood sugar lows and highs * Count on energy that lasts * 24 Vitamins and Minerals * Perfect for snacks, lunch boxes, dessert, before bed- anytime Great with all popular diets- point systems, low carb, low-fat, gluten-free and many others.
Ingredients:
Isolated Soy Protein
Uncooked Cornstarch
Whey Protein Isolate
Dextrin (fiber)
Inulin (fiber)
Sunflower oil
Maltodextrin
Sugar
Xanthan Gum
Natural and Artifical Flavors
Modified Food Starch
Carageenan
Soy Lecithin
Vitamins and Minerals: (Palmitate, Cyanocobalamin, Pyridoxine Hydrochloride, Ascorbic Acid, Cholecalciferol, dl-Alpha Tocopheryl Acetate, Phytonadione, Ferric Orthophosphate, Thiamine Mononitrate, Riboflavin, Niacinamide, Folic Acid, Biotin, Pantothenic Acid, Iodine, Magnesium, Zinc, Selenium, Copper Oxide, Managanese Citrate, Chromium, Molybdenum), Sucralose, Citric Acid, Cextrose, Red 40, Tricalcium Phosphate, Caramel Color.
Package Contents: You will receive
1 box of 5 Vanilla Shake Packets
Product Details
Expiration: 6+ months from Purchase Date
Dimensions: 4″ x 3″ x 6″
Brand: Extend
UPC: 693413106119
Item Model Number: extvansk
Manufacturer Contact Information
Phone Number: 1-800-887-2919
Brands:
Extend Nutrition
CLINICALLY PROVEN BLOOD SUGAR CONTROL FOR UP TO 9 HOURS. MODERN NUTRITION SCIENCE IS CLEAR. BLOOD SUGAR CONTROL IS FUNDAMENTAL TO YOUR HEALTH, YOUR APPETITE CONTROL AND YOUR ENERGY.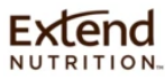 Additional information