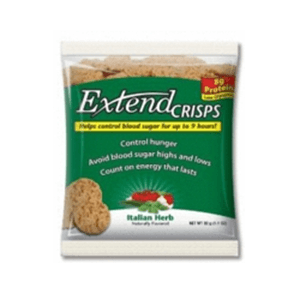 Description
Extend Crisps Italian Herb
Light and crispy, packed with protein and fiber and flavored with robust Italian seasonings, these all natural, low carb, soy crisps fit deliciously into the Transitions Program. You'll be saying Mama Mia, that's Italian! ExtendCrisps™ * Helps Control Blood Sugar for up to 9 hours! * Control hunger * Avoid blood sugar highs and lows * Count on energy that lasts * 8 g Protein, Low Glycemic The Light & Delicious Crispy, Smart Snack!
ExtendCrisps were designed to help stabilize blood sugar levels for up to 9 hours! Its patented formula converts gradually to blood sugar over 7-9 hours instead of all at once like so many other snacks, to help minimize the swings in blood sugar. ExtendCrisps are Clinically Proven to help you: * Control hunger, by suppressing appetite * Reduce blood sugar swings * Avoid low blood sugar, even overnight * Sustain energy levels during exercise and recovery Unbeatable Nutrition Profile: * Good source of protein and fiber * 0g trans fats * All natural * Low glycemic index and load * How to count the carbs in ExtendCrisps: Based on clinically conducted continuous glucose monitoring, only 8 of the 16 grams of total carbs have a short term impact on blood sugar. Fiber (3g) and uncooked cornstarch (5g), convert slowly and have minimal impact on blood sugar.
Package Contents: You will receive
1 Extend Crisps Italian Herb
Product Details
Expiration: 6+ months from Purchase Date
Dimensions: 3″ x 2″ x 2″
Brand: Extend Nutrition Crisps
UPC: 693413102210
Item Model Number: extCithb
Manufacturer Contact Information
Brands:
Extend Nutrition
CLINICALLY PROVEN BLOOD SUGAR CONTROL FOR UP TO 9 HOURS. MODERN NUTRITION SCIENCE IS CLEAR. BLOOD SUGAR CONTROL IS FUNDAMENTAL TO YOUR HEALTH, YOUR APPETITE CONTROL AND YOUR ENERGY.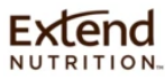 Additional information
| | |
| --- | --- |
| Weight | 0.125 lbs |
| Dimensions | 2 × 3 × 2 in |