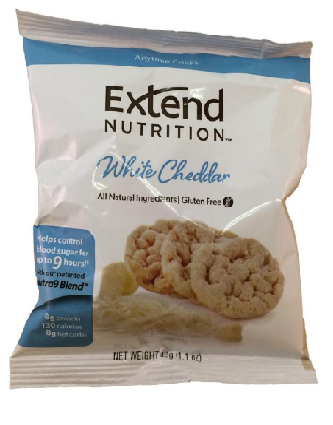 Extend Crisp White Cheddar * Short Date Sale *
Out of stock
Description
Extend Crisp White Cheddar
FINAL SALE! ALL SHORT DATED PRODUCT IS NON-RETURNABLE!
Helps Control Blood Sugar for up to 9 hours! * Control hunger * Avoid blood sugar highs and lows * Count on energy that lasts * 8 g Protein, Low Glycemic The Light & Delicious Crispy, Smart Snack! ExtendCrisps were designed to help stabilize blood sugar levels for up to 9 hours! Its patented formula converts gradually to blood sugar over 7-9 hours instead of all at once like so many other snacks, to help minimize the swings in blood sugar.
ExtendCrisps are Clinically Proven to help you: * Control hunger, by suppressing appetite * Reduce blood sugar swings * Avoid low blood sugar, even overnight * Sustain energy levels during exercise and recovery Unbeatable Nutrition Profile: * Good source of protein and fiber * 0g trans fats * All natural * Low glycemic index and load * How to count the carbs in ExtendCrisps: Based on clinically conducted continuous glucose monitoring, only 8 of the 16 grams of total carbs have a short term impact on blood sugar. Fiber (3g) and uncooked cornstarch (5g), convert slowly and have minimal impact on blood sugar.
Package Contents: You will receive
1 Extend Crisp White Cheddar
Product Details
Expiration: 8/18
Dimensions: 3″ x 2″ x 1″
Brand: Extend Nutrition Crisps
UPC: 693413102012
Item Model Number: extCwhched
Brands:
Extend Nutrition
CLINICALLY PROVEN BLOOD SUGAR CONTROL FOR UP TO 9 HOURS. MODERN NUTRITION SCIENCE IS CLEAR. BLOOD SUGAR CONTROL IS FUNDAMENTAL TO YOUR HEALTH, YOUR APPETITE CONTROL AND YOUR ENERGY.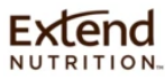 Additional information
| | |
| --- | --- |
| Weight | 0.087 lbs |
| Dimensions | 5.5 × 6 × 2 in |