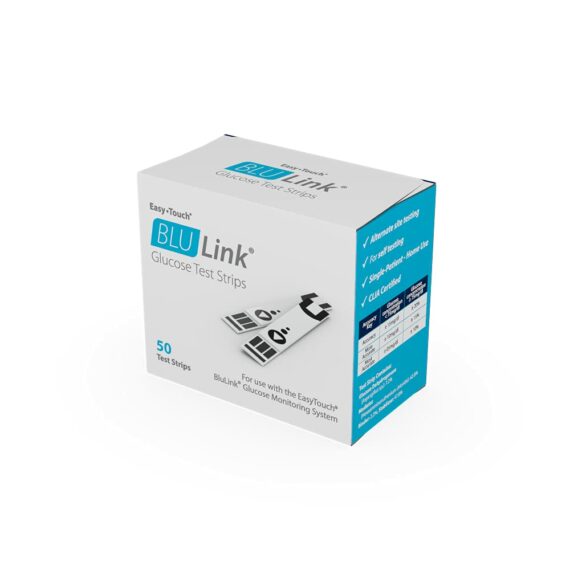 Easy Touch BluLink Test Strips Box of 50
Description
BluLink Test Strips EasyTouch
Alternate Site Testing (AST) is a feature of Easy Touch BluLink Test Strips, which also don't need any coding and simply requires a small amount of blood. The Easy Touch Blu Link Glucose Meter is used with the BluLink glucose test strips.
For more comfortable glucose testing and extremely accurate results, BluLink blood glucose test strips are designed and produced to the highest standards.
Features
BluLink test strips are made to make glucose testing simple, reliable, and economical. In our GO-based test strip platform, a very small blood sample size yields precise results very quickly.
Alternative Site Testing (AST) without Coding
Rapid Results in 5 Seconds with Only a Tiny Blood Sample – 0.5 l
Meter features 4 Reminder Alarm 500 With 7-, 14-, and 30-Day Averaging, the Most Recent Results Blulink Auto On/Off
Brands:
MCH
Since 2004 MHC Medical Products has been manufacturing high quality medical products for the retail pharmacy and the consumer market. They enjoyed great success with their first two lines of products, ColorSafe Vials and EasyTouch Syringes. This success continued when they expanded their insulin syringe line in early 2006 to include Safety Syringes and Pen Needles. EasyTouch insulin syringes and other MHC products are designed and manufactured to the highest levels of quality, but at a much more affordable cost to the wholesale market than comparable premium brands