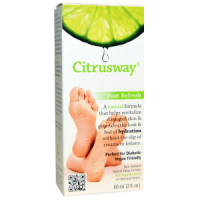 Description
Citrusway Foot Refresh Spray 2fl oz (60mL)
Citrusway is 100% plant based, highly effective, proprietary blend of grapefruit seeds and pulp extracts.
A natural formula that helps revitalize damaged skin & generates the look & feel of hydration without the slip of creams or lotions. Citrusway Foot Spray is a solution derived from citrus extract (Paradisi). When used consistently as directed Citrusway Foot Spray will help you revitalize damaged skin and imperfections for an attractive & more beautiful appearance. This convenient 2 oz spray is great for active lifestyles and sport enthusiasts.
Suggested Use:
Apply twice (2) each day, in the morning after showering and then again at bedtime. The dry, discolored & aggravated skin will experience improvement for cleaner-and-healthier-looking skin and will be under control within approximately seven (7) days.
Package Contains: you will receive 1 Foot Spray 2fl oz (60mL)
Additional information
| | |
| --- | --- |
| Weight | 0.212 lbs |
| Dimensions | 2.3 × 1.3 × 5.5 in |